It is critical to completely remove ArchVision Dashboard and ALL RPC plugins before installing AVAIL. This quick guide will walk you through the necessary steps to uninstall all ArchVision Software from your system.
Step 1: Uninstall ArchVision Dashboard and ALL RPC Plugins
To do this, open the windows menu and type Add or Remove programs, click on the Add/Remove programs, In the Search box Type "Archvision" to filter all the ArchVision Software installed in your system, choose the program you want to uninstall and click on the Uninstall button, Next follow the uninstallation wizard. This will remove the program.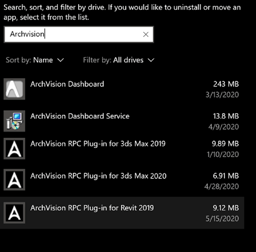 Step 2: Delete the remaining files and folders
Some fragments of the file may be left in a few of the system folders. To remove them, you'll need to check the program files and app data. Check the following folders for leftovers.
%programfiles%
%localappdata%
And Remove Any ArchVision Folder left.
Just type the above text one at a time in the search box and press enter. This will open the folders directly. If you find any folder with the name of the program you just uninstalled, delete it.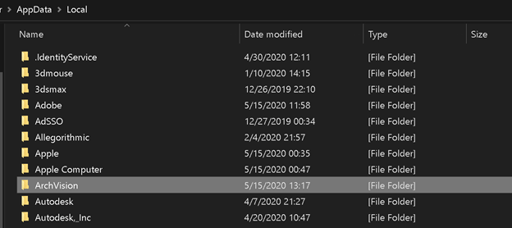 Step 3: (OPTIONAL) Remove software keys from the Windows Registry
You will need to be very careful when performing this procedure. When you uninstall a software program, in most cases, the uninstaller does not remove the program from the Windows Registry.
This increases the Windows Registry size. To completely remove the software, you need to remove its key from the Windows Registry. Follow the steps below to remove the program keys.
Open the Start menu, type Regedit in the search box, and press ENTER. It will launch the Registry Editor.
Look for the following key:

HKEY_LOCAL_MACHINE/SOFTWARE/ArchVision/Bacon
HKEY_LOCAL_MACHINE/SOFTWARE/ArchVision/RPCShellExtension

Look for a key with the name of the program (click each folder to reveal the data) and delete that key/folder.
Step 4: Empty Temp Folder
The final step is to clean the Temp folder. This is the folder that contains all the temporary files and cleaning it is safe. To empty the folder, open the Start menu and type the following commands one by one:
This will open the Temp folders. You can now empty them. If the system displays an error message when deleting some files, leave them. The files might be in use by Windows services or some running software